Back to School Ready Checklist: A To Do List for Special Education Teachers (with Freebie)
Jul 25, 2019
The countdown is happening, school is almost back in session (no matter how many times we wish for 1 more week or month). Are you
back to school
ready
?
If you are like me, you're probably pushing off even talking about the S word (school) until a specific date- mine is August 1st. No matter if you are raring to go, prefer to slowly get back into the school groove, or just finished your degree and accepted your first teaching position, you'll need to know what to do before your students come rushing through your doors on day one.
Each summer I reference my list of
back to school ready checklist
and start tackling them one by one. Some are quick things I can take care of from the comfort of my own home, others require some thought and research, and the last few need me to be present in the building or consult fellow staff to fully check off.
This list was designed with special education teacher needs in mind, but it can be a starting point for resource or general education teachers.
Good news, I'm sharing my to-do list with you for FREE! Don't worry, I've added extra lines to the end so you can write in to-do's that are unique to you and your position.
Click
HERE
to download it and to start your first couple back to school-professional development-institute-work days off on the right foot!
To-Do List Highlights
1. Copy goal sheets on identifiable colored paper
Is your signature color neon green or bright pink? Copy your data collection sheets on colored paper and this will serve as a visual reminder to collect data and will assist support staff to know who to return the data to- double win!
2. Gather student materials from previous teacher
Work smarter, not harder. One email to the student's former teacher could land you with their bathroom visual schedule, preferred Youtube video channels, daily home communication document, and SO MUCH MORE! Don't recreate the proverbial wheel if something is already developed and successful!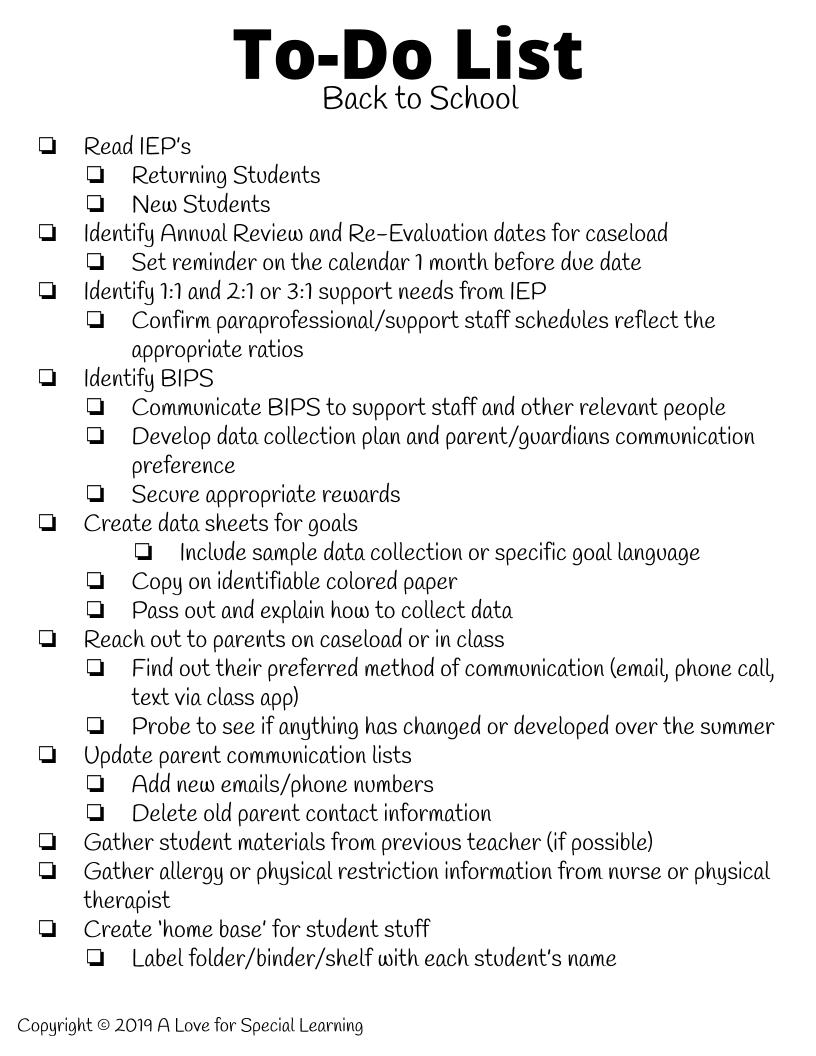 I give each student on my caseload (or in class) a hanging folder at my desk. As I gather random papers, permission slips, notes from phone communication with parents, daily communication logs, etc, I drop it in their folder. It's not organized by any means, but it has been very helpful in the past to rummage through and find dates or information I randomly needed!
If your students take a bus into the community or to and from school, you know that learning the bus driver and bus number can be a learning curve at the start of the year. Create a document that has the bus number, driver's name, or driver's picture and have your students check-in with this daily until they have established a new routine. I also use this for students to learn how to get to the bus on time! They learn to leave the building to load the bus 5 minutes before our posted 'depart' time on our schedule. This 5 minute buffer time is truly one of those life-long skills!
I use Google Slides for my Good Morning Slide (see mine below). This slide is projected every morning as my student's walk into the classroom. I have our daily reminders and routine listed, I also add reminders throughout the school day that need to be shared the following morning (like scheduled fire drills and building wide pizza parties), and then each student's name is listed below. This is where I put reminders of things I need to communicate with them or get from them (such as 'turn in permission slip,' or 'speech group is canceled today.') I train them to read these reminders on their own and complete what they can independently!
Good Morning Slide Example
Now, take a deep breath and get ready to tackle another year! You can be back to school ready with this checklist. Click
HERE
to download it NOW!