How To Teach: Cleaning A Room
Jan 10, 2022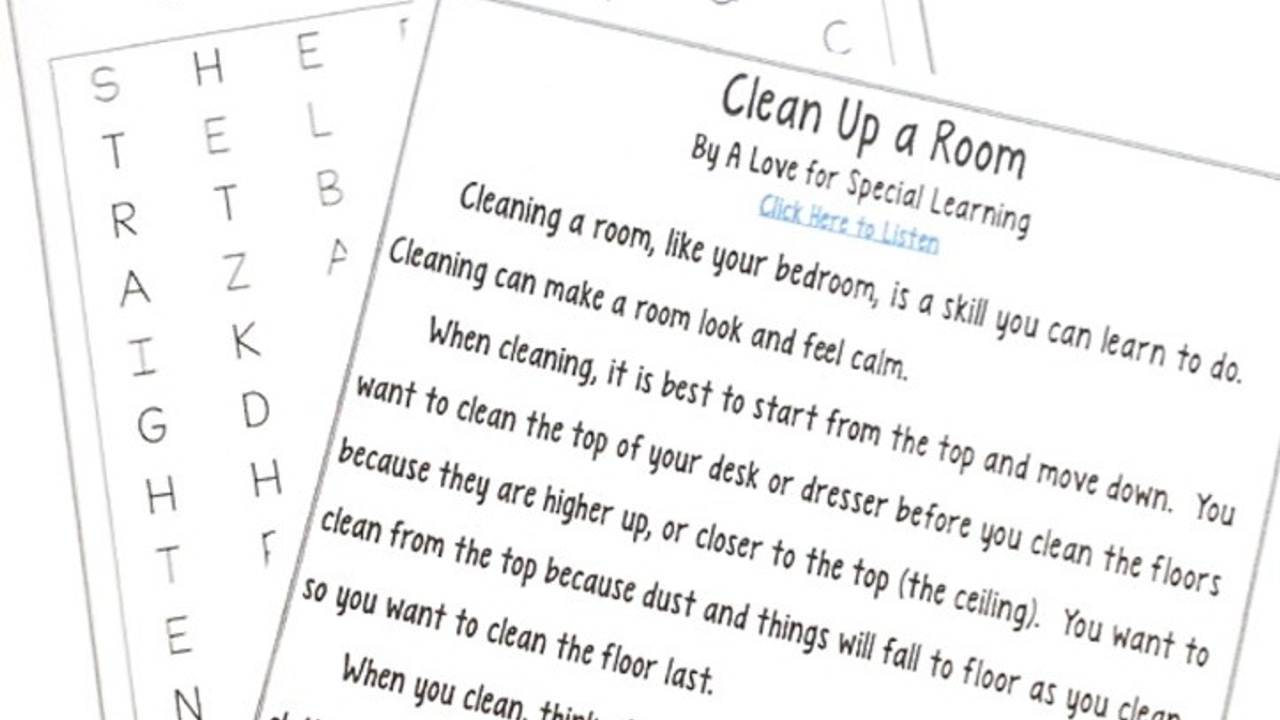 Importance of Cleaning a Room
Some people are born with the need to have things clean and orderly and others...just aren't. However, learning to
keep a room clean
(like a bed room or dorm room) is a useful skill. Not only will students increase their feeling of accomplishment because it is a skill where they can SEE the fruits of their labor, but families will appreciate that their student knows HOW to
clean their room!
-When looking at a room where to start cleaning
-How to approach cleaning a space
-Where to put things when cleaning
Why Focus On These Skills
A student's room, regardless of where it is or who they share it with, is their own small space in the world. Keeping it clean will not only help them to find things easier and wear clean clothes, it will also clear their mind as clutter can be distracting for many people.
While you may not be able to go into the bedroom of each student, if your students have lockers then same cleaning approach skills can be used to keep that space tidy. With that said, slot 'cleaning a room' into any week in your schedule.
If possible, pre-teach Cleaning using the
Cleaning Lesson Unit
. Cleaning a Room is a nice follow-up to general cleaning skills.
I've created a complete lesson unit of materials for teaching this topic. The materials are comprehensive (3 full lessons) and most appropriate for life skill lessons at the middle school, high school and transition level students. Below are some lesson unit highlights!
Students will identify the steps to making a bed.
Students will identify the steps to cleaning a space using the top to bottom method.
Students will apply the 'in and away' method when cleaning a space.
Bed, basket, clean up, close, comforter, dirty, garbage, pillo, put away, sheets
1 page narrative explaining the skill with and without visual text supports (to incorporate functional reading)

5 skill practice activities to learn and/or reinforce the focus skills

Boom Cards for practice or assessment

5 strategies for success (tips for being successful with the focus skills)

Student learning reflection worksheet (thumbs up or down)

Coloring page with on-topic graphics

Homework sheet to encourage students to practice the skill outside of the school setting

Word search of key vocabulary terms

Visuals for focus skills with age appropriate colors and graphics
If your students are teenagers, then most likely they need some encouragement to keep their room clean. Students often hear the phrase, 'Go clean your room!' but unless they have learned WHEN and HOW to clean it, it can seem like an impossible task. Give them the tools to begin cleaning even their locker and grow from there!