How to Teach Income
Aug 16, 2020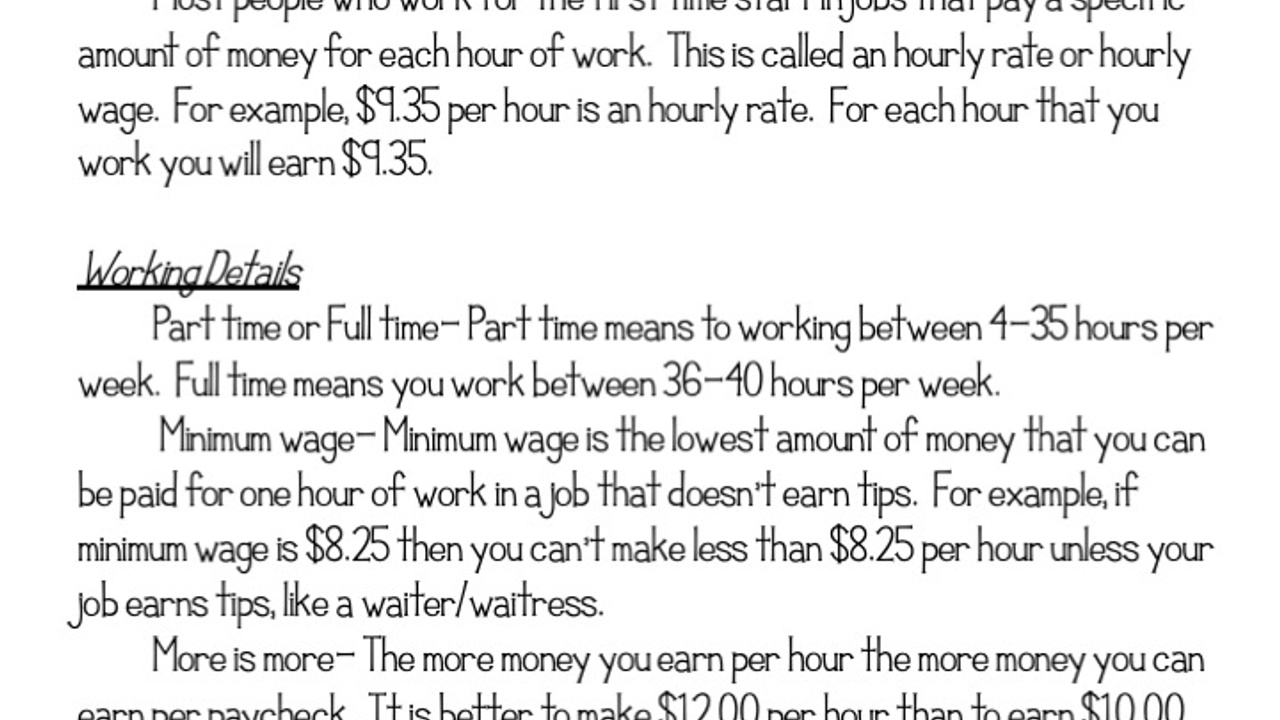 Our very first topic of the Consumer Math Blog Series is about how to teach Income. You can't spend any money until you've got it! Read more about why and how you can teach Income using my Income Lesson Unit (click here to get your copy).
Purpose of Teaching Income
I feel confident assuming that most parents/guardians/caregivers do not openly talk about their earned income with their children, nor do children openly ask their family members. I also feel confident that when a student earned an allowance or money from completing tasks at a young age (like babysitting), that no one went and started deducting money for FICA, Medicaid, and the like. Could you agree with that? Therefore, the large majority of students don't have a clear picture of what income looks like, including the range for a competitive, entry level position. This lesson will hopefully bring clarity to some misconceptions!
Key-Must-Teach Concepts
Income is earned! Yes, there are other ways to obtain money, such as weekly allowance or government benefits, but the money received from working can have more weight.
Net pay is what really matters. Net pay is the money you will actually hold in your hand at the end of the day, so that is the amount that really matters.
Income is flexible. Even as an adult who is salaried, I can attest that my bi-weekly paycheck amount changes (thankfully, not by a lot). So, keep that tidbit front and center when calculating income with your students. Each paycheck amount might slightly different.
Lesson Unit Objective
Calculate the gross pay of a part time job given an hourly wage.
5- Day Lesson Unit Break Down
Day 1- This day is to really introduce the concept of income, to make the learning a little light and fun, and to begin laying the groundwork for building upon. This looks like a fun brain teaser (which I suggest you also count up, because I was shocked how many jobs I've had when I really thought about it), followed by a look at a visual map to see how critical income is to every other part of one's life, and then a true introduction with a reading passage (which also includes 5 T/F questions and 4 reflective writing prompts).
Day 2- Time to get down to business with notes! Cover the basics with notes and have some fun along the way. I use this time to show real evidence of my income (yes, I still have my old paychecks from way back when). I bring them in to show students (with all personal information covered up), so they can see just how much I earned from real, part time work at different jobs. I will say, it's usually pretty eye opening for them!
Then, start the list of ideas! Use whatever platform is best for you, but get ready to write. I've included a list of ideas in the lesson unit, but your class should create their own. Write down all local entry level jobs that your students would be appropriate to apply for with just a high school diploma. Remember, this shouldn't contain a highly specialized skill (like ballet dancer), but minimal training that they might get paid to attend is acceptable. If they need some help getting started, have them grab their phones (or jump on maps.google.com) and start finding businesses around the area. Then, help them to identify the different jobs they might see if they were to walk into that business. (I've found my students really struggle with identifying different jobs. The map was a way to get the conversation and ideas flowing).
Have this list ready to distribute to students later in the week, if they need it. I usually made copies, hole-punched them, and was ready in case a student needed reminders or ideas come Day 3 & 4!
Day 3- The Parts worksheet is a nice blend of notes and structured application practice. As you will see, the first page clearly outlines basic vocabulary they will need to know and the back side begins with making the concept or idea more real (reading a paycheck).
The Calculating Income worksheet takes an entry level job that would earn minimum wage (ideally from the list your class created) and walks through the process of calculating what that paycheck would look like. This worksheet does review basic terms again as they will be used in each step of the worksheet.
Day 4- It's time for student choice and practice. Students will choose a job from the list and will walk through the steps (while making important decisions about their ideal working hours) to calculate a paycheck. A little research is involved (check out Further Practice Ideas for how to incorporate this research into the lesson), but a little searching and reading can go a long way.
TIP: If my class is getting quick at this, then I throw them another copy of the worksheet and have them do it for job number 2, because, realistically, someone doesn't just apply for one job when they want to start working, so knowing how different jobs will impact income is important!
Day 5- This is the time for final review, assessment, and a little more low-impact fun! I prefer to start the last day (or any test day) with a review and that is the time I like to use the task cards. Use them anyway you like (or read my suggestion below) for a full circle lesson recap. Then, settle everyone and go over highly missed concepts before handing over the 5 question assessment. As students turn in their 'test' I hand them a word search to keep them quiet and busy. I never put words backwards (for my low level readers sake), so this may be quick for some and challenging for others.
Reading Passage Options
I would suggest moving through the reading passage materials (reading passage, 5 true/false questions, and the 4 reading prompts), in order to solidify understanding. First, have the students read the passage (independently, as a class, or both), then review any key terms or areas that you anticipate may be newer information for them. Then, have them work through the 5 true false questions and turn in or grade allowed. Lastly, have them spend some time writing what they think, know, and feel about income.
Listen and Learn
A Listen & Learn is a short, 5 sentence PowerPoint/Google presentation that introduces the topic using visuals and audio. Ideal for non-readers! Read about what they are and how they might be right for your classroom here.
Task Card Ideas
If this is the first time using task cards (or even if it isn't), I would use them in the most mundane way. Print, cut, and tape them around the room at different levels (some at eye level, some on the ground (to get kids sitting on the floor), and some on an open desk. Then, give each student an answer sheet. Give them a set amount of time (if they need a little motivation) to complete all 16. They can go in any order, but reminders to check the number with where they are marking their answer will be helpful).
Further Practice Ideas
May I suggest having your students gather the actual hourly income in your area by asking locals? If possible, give your students weekend homework to visit a place they would like or consider working at, have them ask to speak to a manager, and request the typical hourly wage that a new employee would be paid if they were hired today. Confirm that each student will visit somewhere different. If that isn't possible, then consider having students call local businesses asking the same question and note that it is for educational purposes!
Ultimate Goal of the Lesson Unit
Familiarize and empower students to see that they have control over their earned income and that it will dictate the rest of their lives. Opening their eyes to the reality of gross pay versus net pay can be so important to understanding why working more than part time is key to living more independently.
May I Also Suggest Teaching
Now that you know how to teach income (and your students know how to earn it), it is VITAL to teach how to manage it! May I suggest the Budget, Checking Account, and Savings Account lessons as follow-ups.
You may learn a new idea to two from these Consumer Math Blog Posts: