How To Teach: Email Writing and Management
Oct 25, 2021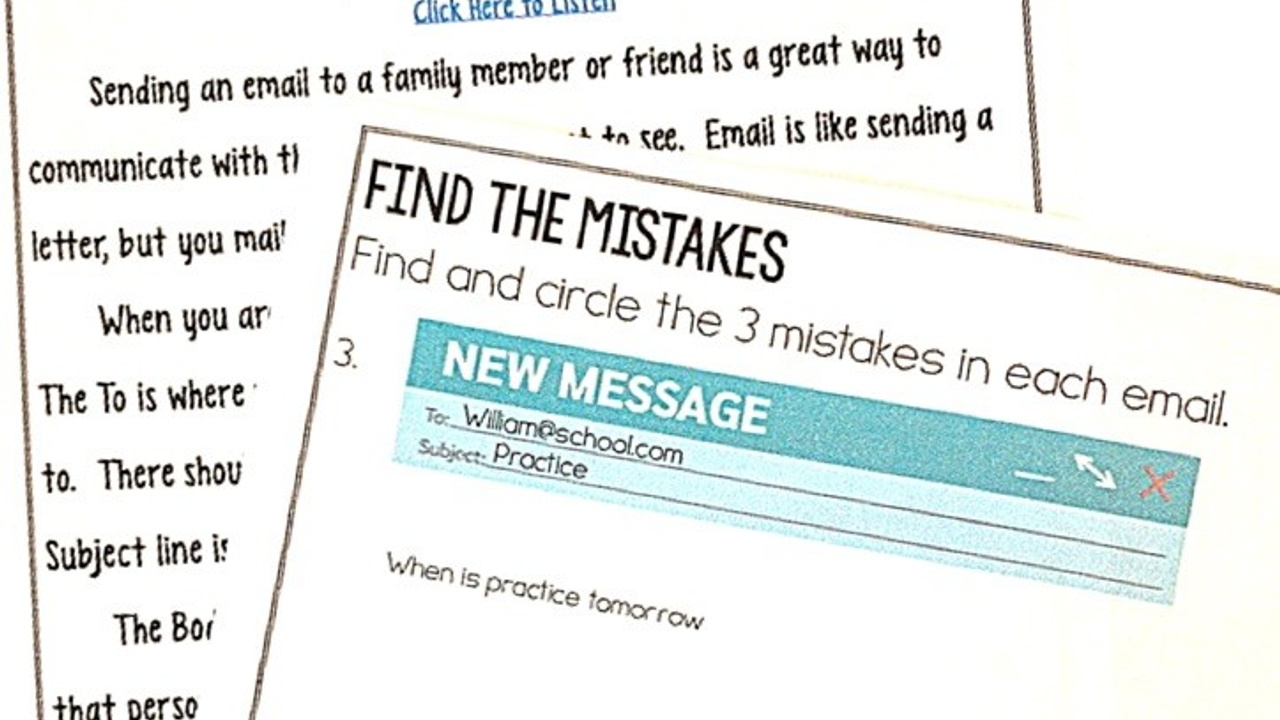 Importance of Writing an Email
I hear families say over and over again that they wish their child could socialize with their peers in the evenings and on weekends. Teaching students
how to email
gives them an avenue to communicate with others. A student doesn't need to be verbal to email and they don't even need to know how to type (hello, Speech to Text in Google Docs- then copy/paste), any student can
develop an email
and reach out to someone they know and trust.
-How an email gets to another person
-How to type a proper email address
-Writing a subject, intro, body, and signature with proper form
-How to spell check the email
-Identifying errors in an email
Why Focus On These Skills
Setting students up with email on a platform that will extend beyond their school career (like Gmail) will give them another tool in their toolbox to stay connected with peers and staff. Teaching them how to properly communicate via email may support them in future volunteer and competitive jobs.
It isn't important WHEN you teach email writing, it's important that it continues to be INCORPORATED into the daily routine. Writing an email is just as important as checking for a reply and responding when needed. Therefore, be ready to revisit email writing on a nearly daily basis to both solidify the skill and to teach overall proper email etiquette.
I've created a complete lesson unit of materials for teaching this topic. The materials are comprehensive (3 full lessons) and most appropriate for life skill lessons at the middle school, high school and transition level students. Below are some lesson unit highlights!
Students will identify and type in the necessary sections in an email, including To email address, relevant subject line, introduction, body, signature, spell check, and send.
Body, capital letter, comma, email address, question, send, spell check, signature, subject, to
1 page narrative explaining the skill with and without visual text supports (to incorporate functional reading)

5 skill practice activities to learn and/or reinforce the focus skills

Boom Cards for practice or assessment

5 Strategies for Success (tips for being successful with the focus skills)

Student learning reflection worksheet (thumbs up or down)

Coloring page with on-topic graphics

Homework sheet to encourage students to practice the skill outside of the school setting

Word search of key vocabulary terms

Visuals for focus skills with age appropriate colors and graphics
If students can have one more way to stay connected with their peers outside of the traditional school day, then they have an opportunity to create solid friendship circles. Getting students to see email as a way to stay in touch with their friends, peers, and others (like co-workers and staff), then they may be more willing to learn how to use email.