Renting Lesson: Understanding a Lease, Manage Paying Bills, and More!
Sep 11, 2023
I'm sharing an in-depth resource review of my most recent

Renting lesson unit

.

While my

original

Rent lesson unit

covers the necessary basics, this new resource includes all your favorite things but dives a bit deeper into renting. So, if you are looking for materials to teach about

what it really means to rent

an apartment for the first time, then keep reading!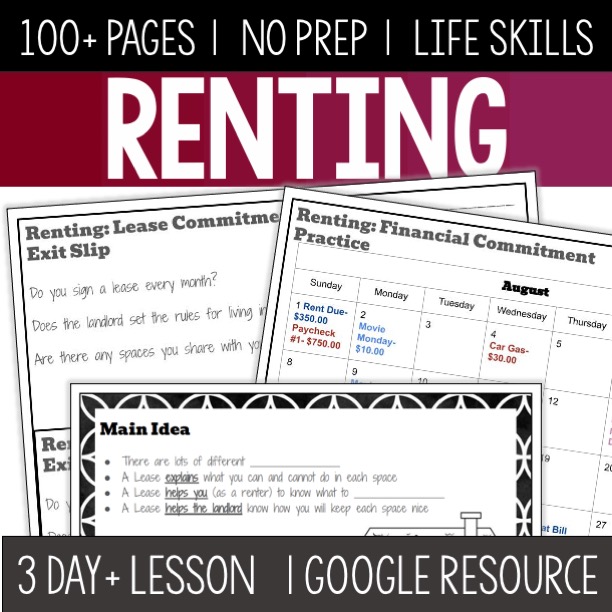 What's Covered
Since this resource is a step above renting basics, students will be strengthening their understanding of what it means to be a renter, not just regurgitating the definition of rent.
The resource is divided into three main areas:
Lease language

Financials (different rental cost scenarios)

Responsibilities as a renter
Each area is titled with Commitment, because renting is just that- a series of commitments.
What's Included
This resource will cover approximately 3-5 lessons (assuming they are 50ish minutes long), but could definitely be stretched even farther if students are deeply engaged and conversation is flowing!
Materials:
Pre/Post test (Google Form- already set to automatically grade!)

3 Slide Decks (Google Sheets)
Main idea

Vocabulary

Introduction

Examples

Review
3 Check-In/Exit Slips
4 Practice Worksheets
Guided Notes Worksheet
Answer Keys
The Lease practice worksheets have students interpreting common lease language to answer questions a renter might have.
There are two Financial practice worksheets. The first financial worksheet has students comparing the financial commitment of living alone vs with a roommate, in a studio vs a 1 bedroom, etc. The second financial worksheet has students read a calendar and identify the total cost of bills and which paychecks will cover what bills.
The Renter Responsibilities worksheet has students reviewing how often they would complete a variety of renting-type tasks.
How it's Different from the Original Renting Lesson Unit
The original

Rent lesson unit

will best serve your beginners who are new to the concept, dipping their toes in the idea of living away from their family home, or a nice refresher post

school break, the new

Renting lesson unit
builds upon the basic concepts of renting.
If you are teaching a higher level consumer math course or students who are familiar with what renting is and know they want that for their future, then this new lesson unit is for them! As a long term renter myself, I used my years and years of personal experience as a renter to inform much of the content.
Why You'll Love It in Your Teacher Toolbox
Every classroom looks different, from your level of student to the time you have for lessons, to the general flow of your class. Therefore, I design lessons (as best as I can) to be flexible to meet your unique classroom needs.
You can use the three main slide decks and activities back to back or you can use them sporadically, to supplement other lessons you want to introduce in between. They have the ability to stand alone, but do work best if taught in tandem.
The check-in slips can also be used as exit slips. The practice worksheets can be completed in class or as homework. Do what works best for your class period and students!
And, there is never a bad time to lead a lesson on renting! This is a great resource to have in your digital drive for when your other plans fail miserably or the supplies you requested are backordered or the speaker you had scheduled needs to cancel. Renting is always an applicable topic!


By the end of this lesson unit, I feel confident your students will have a stronger understanding of the commitments related to renting a place and will still be saying, 'I want to rent my first apartment!'